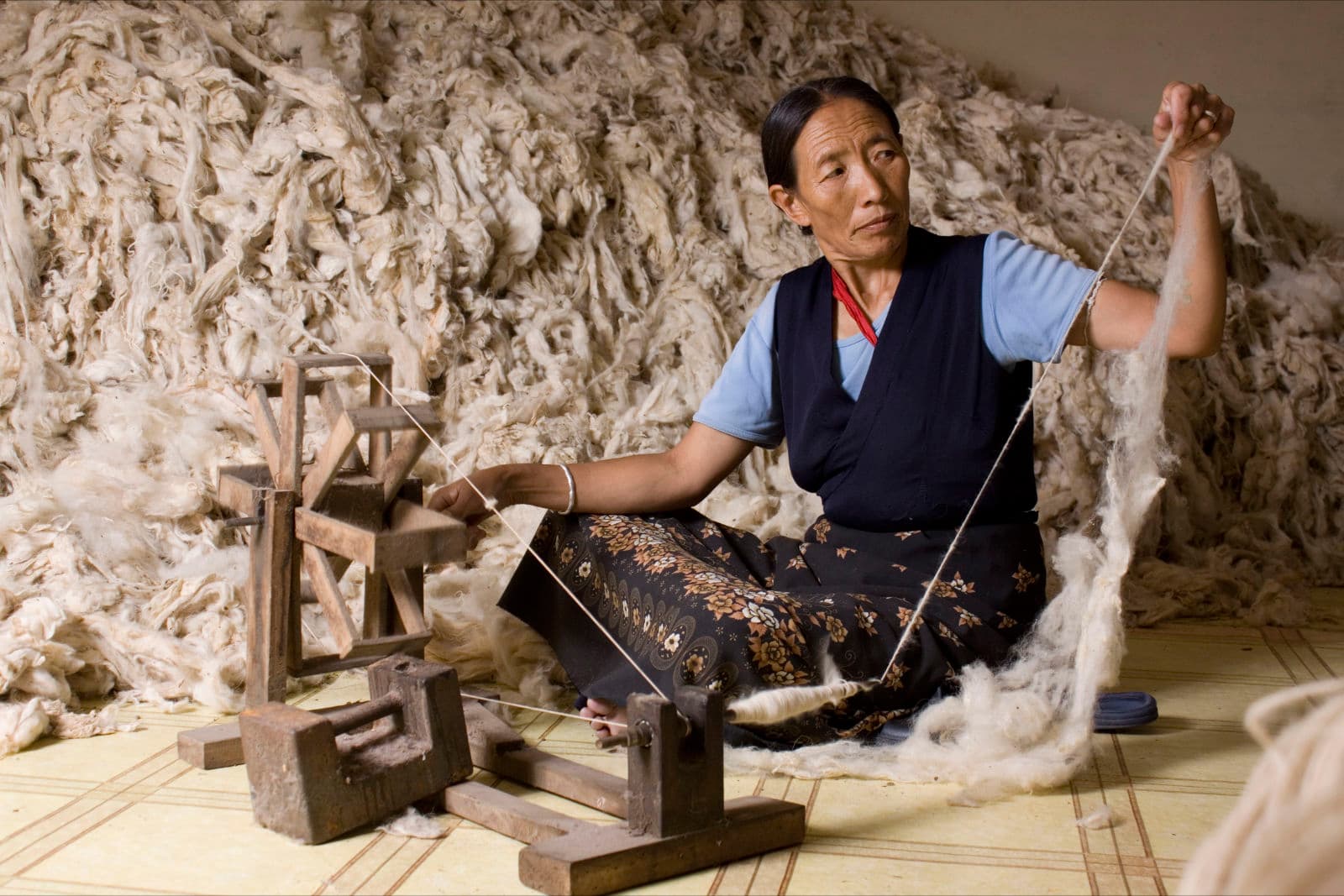 WOOL
Moisture and fire-resistant, very resilient to crushing, natural, soft, and warm to the touch, wool is the most used material in rug production.
At an average altitude of 4,000 metres, in the Tibetan highlands, live a breed of small goats characterized by a wool fleece made up of long and strong fibres that protect them from the cold.
The Tibetan wool is carded and then hand-spun. The thickness of the resulting yarn is irregular, thus giving the rug a more handcrafted look.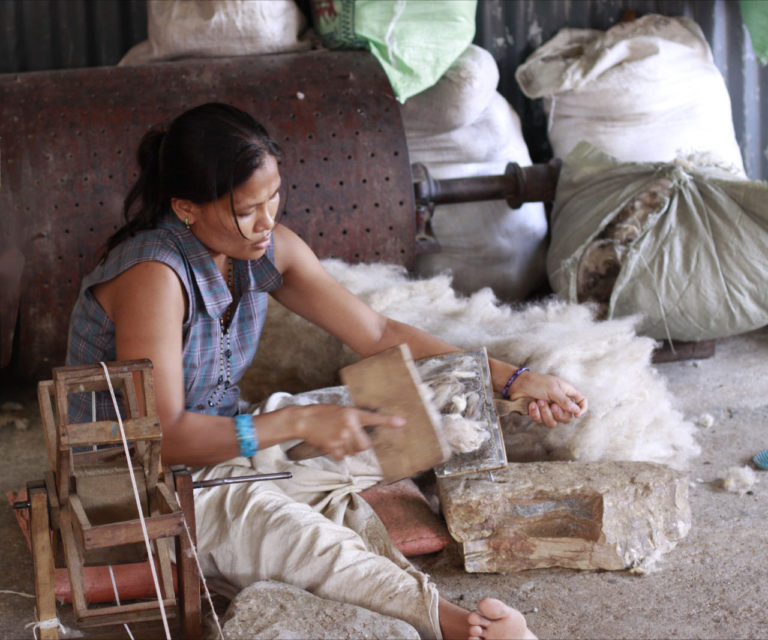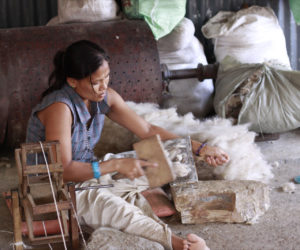 Light-coloured, the Tibetan wool is not as white as New-Zealand wool which isfree of impurities.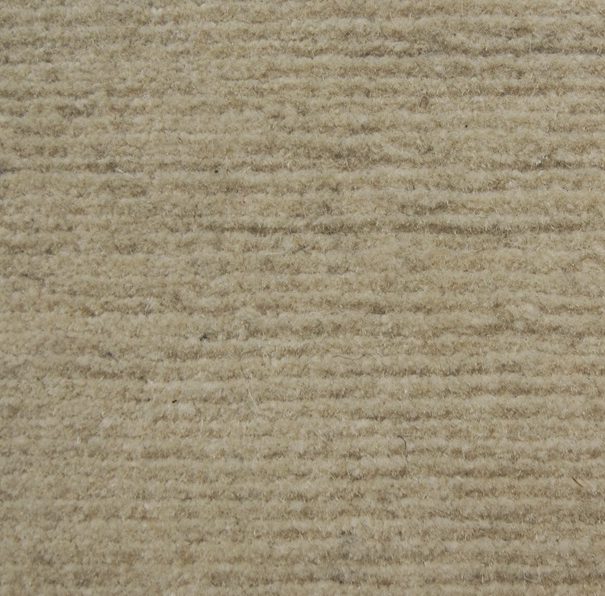 Tibetan wool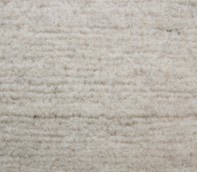 New-Zealand wool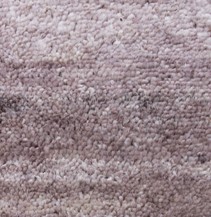 Handspun afghan wool – Natural shades
If you are looking for pure whites or light colours but want to avoid the "gross" aspect of Tibetan wool, New Zealand wool will be the right choice.
The wool used in India to produce quality rugs is usually imported (originating from merinos in New Zealand, Australia, etc.). If not certified as 100% pure new wool, it is usually blended in varying proportions with local wool ("blended wool").
There is a wide variety of wools available, and this will affect the final look of the rug:
the origin,
the yarn diameter (denier system, metric count [1] ),
the combing process (semi-worsted) or carding,
the number of yarns/plies in a strand of wool.
the twist,
Wool spinning by machine or hand,
[1] The metric count (Nm) is a number of units corresponding to 1000 metres of yarn in a kg of yarn. 60 count is equal to 60,000 metres in 1 kg of yarn.
For instance, a 5 ply strand of 60 count will have the same thickness as a 1 ply strand of 10 count.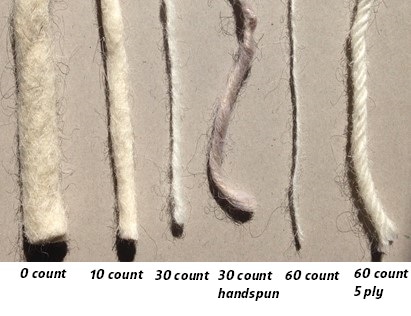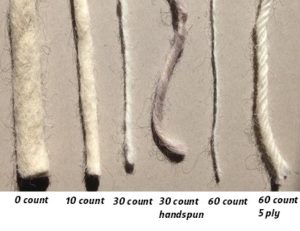 Handspun wool gives a more irregular yarn in terms of thickness and a more handcrafted look to the rug, especially when the tightness is moderate.
Semi-worsted means long fibres, less linting, and more shine.
Properties of the wool :
Different heights and thicknesses of rug piles available
Moisture and fire-resistant
Very resilient to crushing
Soft and warm to the touch
Surface structure Natural gross look, becomes shinier with washing or depending on the quality (Mohair, New Zealand or Afghan wool are shinier)
Applications: knotted, tufted, handloom and Kilim rugs
SILK
Originating from animals, the silkyarn is very long since the cocoon is composed of only one thread (up to +/- 1,000 metres!). It is very thin, perfectly smooth, and shiny. Six to eight cocoons are unrolled together to make the final yarn. Silk has a high absorption capacity, which makes it very resistant to dyes and moisture. It is also very hard-wearing.
The delicate shine of the silk and its fineness are invaluable to the production of high-quality rugs.
The best silk is coming from China. It is 140 counts (denier) ("Chinese silk"). The best Indian silk is called real silk. It is cheaper than the Chinese one.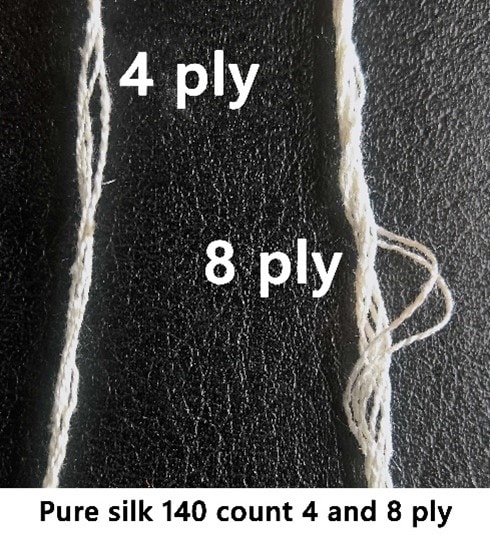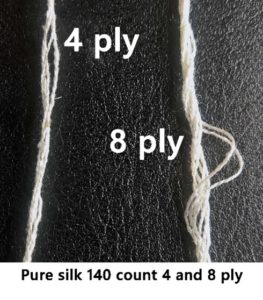 Properties of the silk:
Different heights of rug piles available
Medium resistance to moisture (must be dried as quickly as possible) – less sensitive than viscose
Medium resistance to crushing
Soft to the touch
Surface structure shiny (but less than vegetable silk)
Applications: knotted, tufted, handloom and Kilim rugs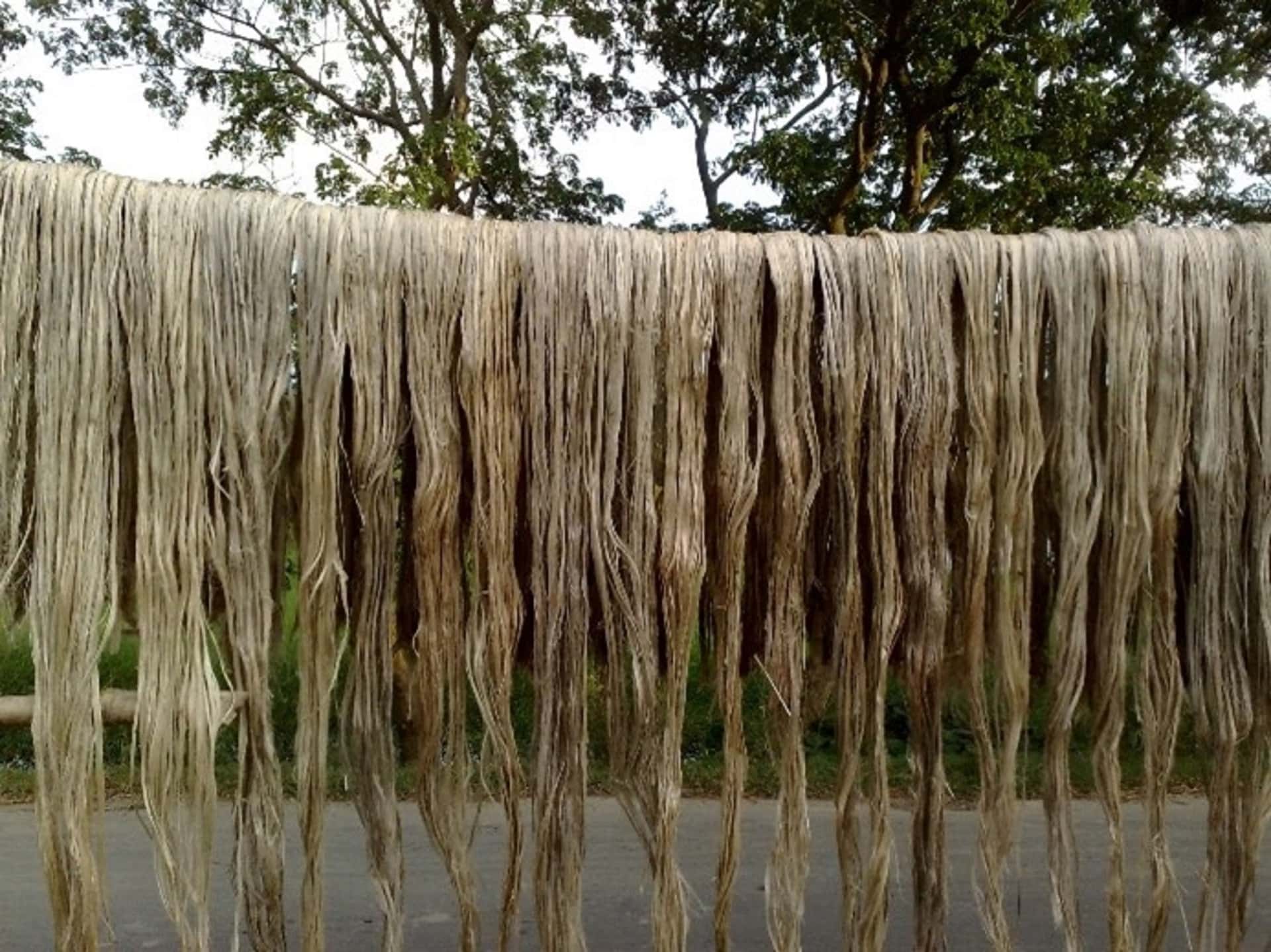 The use of plant fibres is labour-intensive, but it requires less fertilisers and pesticides. It is a perfect alternative to cotton growing. Pants are usually harvested manually. After harvesting, plants are retted, which means leaving them to macerate in water for several weeks until the fibres become loose. The fibres are washed and dried. After that, they are sent to the spinning mill and eventually to the dyeing process.
Their natural colour varies from one harvest to the next, making that propriety a guarantee of authenticity, although this creates differences in colour shade.
These fibres are being used extensively as the manufacturing sector becomes more and more interested in environmentally friendly biodegradable materials.
LINEN
Properties of linen are numerous. Nature-friendly, soft, hard-wearing, less sensitive to moisture and micro-organisms. Its natural brilliance makes it ideal for mixing with other materials such as wool, viscose, and hemp.
The colour shades of linen range from beige to grey. It can be dyed, but its low absorption capacity makes its processing delicate. When used unmixed, its pile reacts like that of silk or viscose rugs: the reflections caused by footsteps appear clearly. This is what makes linen so beautiful.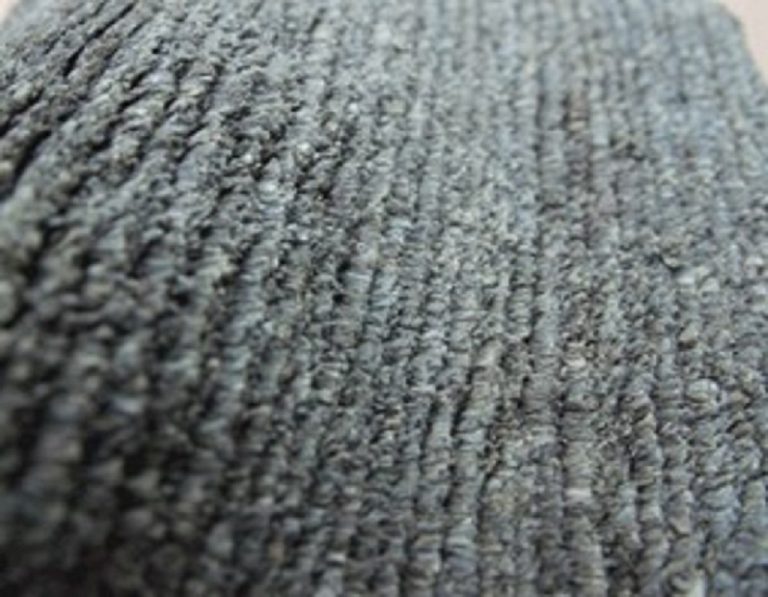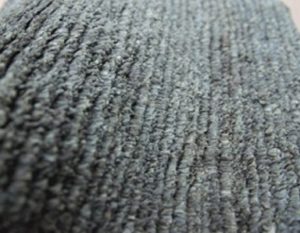 Properties of the linen:
Different heights of rug piles available
Medium resistance to moisture (must be dried as quickly as possible)
Medium resistance to crushing
Soft to the touch in the direction of the pile but rougher in the opposite direction
The surface structure of linen is gross in the direction of the pile but slightly shiny in the opposite direction.
Properties:
Can be mixed very well with wool (makes its piles shiny) or viscose (gives it a gross look).
Its dyeing process is more complex than with other materials: we recommend that a sample be taken before ordering a new colour.
Applications: knotted, tufted, handloom rugs
HEMP
Hemp has been used for centuries and is present in many manufactured products. It is easy and quick to grow. Hemp yarns are obtained by breaking down the stalks (retting). The hemp fibre is completely natural and very strong. Its primary colour is available in shades of browns and, like linen, its dyeing process is delicate. To reduce the roughness of its surface structure, the yarn and the final rug must be washed several times. Hemp fibres create very interesting visual effects when hand-spun and mixed with other materials, such as wool.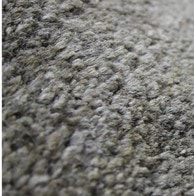 Properties of the hemp:
Pile height: short to medium
Moisture resistant
Medium resistance to crushing
Fairly rough to the touch (less in the direction of the pile). It requires an intensive wash to soften its structure.
Gross look in the opposite direction to the pile, slightly shiny in an opposite direction
Special properties:
Can be mixed very well with wool (for shiny piles) or viscose (for gross look). Creates an interesting visual effect when mixed or when alternating piles and loops for example.
Natural shades obtained when hand-spun
Applications: knotted rugs, Kilims
JUTE
Jute is a herbaceous plant growing in tropical regions such as India and Bangladesh. It is a rain-fed crop that requires little fertilisers and pesticides. Jute yields about two tonnes of dry fibre per hectare. Its fibre is long, soft and shiny. Its length ranges from 1 to 4 metres. It is mainly composed of plant cellulose and lignin, the main components of plant fibre and wood fibre. The most widely used organic method of jute retting consists of soaking the stalks to separate the fibres more easily.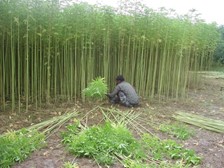 Totally biodegradable and recyclable, jute fibre is environmentally friendly. It is possible to perform a separation of the finest yarns to reproduce the effect of silk. It is also possible to mix jute fibres with wool.
Its fibre is long, soft and shiny. The natural golden brown shades of jute fibres vary from one plant to another.
NETTLE
Nettle stem is a high-quality textile fibre being used for making ropes and canvas in the past. Nettle is not only natural and biodegradable but also light and strong.
ABACA
Also called Manila hemp, the abaca fibre is extracted from the base of leaves growing around the trunk of the abaca tree. Originating from the Philippines, it is widely spread in the humid tropics. The best varieties of abaca are fine, shiny, light beige, and very strong.
ALOE
The natural colour of aloe is beige and shiny as silk, but available in different shades. The tonal variations from a harvest to another can not guarantee the consistency of the dyes.
The properties of the aloe are identical to those of hemp.
The only difference lies in shine and softness: jute and abaca are softer and shinier than hemp or aloe.
NATURAL AQUATIC PLANT FIBRES
Aquatic fibres are very ecological, natural and biodegradable. They are considered as a solution to the invasiveness of certain waterways. Seagrass, water hyacinth and reed are some of the plants that are used to make woven rugs with natural shades of beige, brown and green.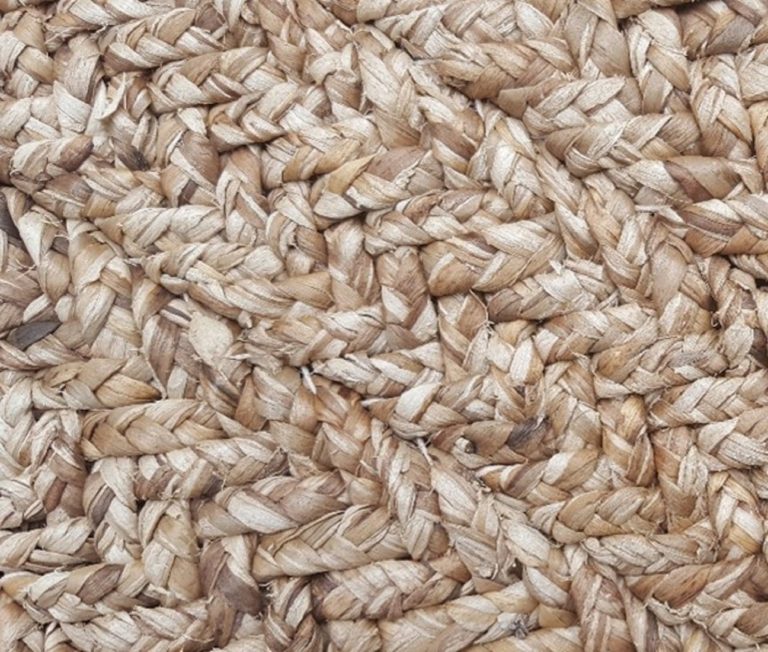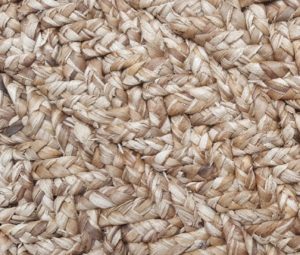 The fibres of natural water plants are robust and very decorative. They are prone to dryness. However, this can be avoided by regularly and lightly moistening them (e.g. with a mop).
ARTIFICIAL VEGETABLE FIBRES (CELLULOSE FIBRES)
Also referred to as the 'artificial silk' or 'art silk', viscose is a more economical alternative to silk. It is softer to the touch and shinier. Made from wood pulp, its properties are similar to those of cotton. Its treatment requires the use of chemicals, even if they are of plant origin. Strong and hydrophobic, viscose fibre has low resilience.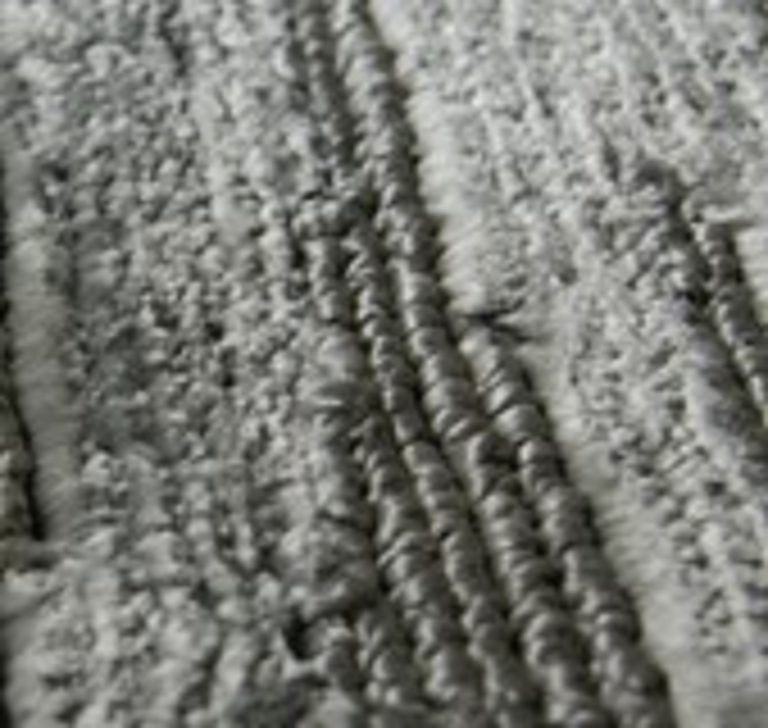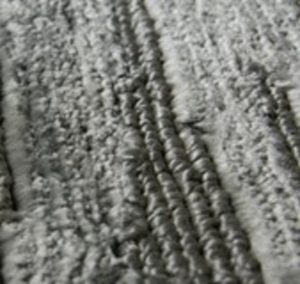 Bamboo viscose is more like silk, but softer.
Banana viscose has a brighter sheen and a more metallic look.
The Tencel (lyocell) yarn is extracted from the eucalyptus. It is obtained through more ecological processing than viscose. Indeed, the solvent used to dissolve wood pulp is non-toxic and biodegradable. A further advantage of Tencel is its resistance to water and wear. Those properties are ideal for rugs that are intended for heavy use and are easy to maintain.
As with linen or silk, the direction of light on the rug is important to have the best colour rendering. In the opposite direction of the pile, the colours are contrasting and deep. In the other direction, they are sometimes invisible and the rug is very shiny. Please be aware of this when preparing your order (especially if a special cut is required: the direction of the pile should be considered before the cutting).
Properties:
Different heights of rug piles available
Very low resistance to moisture (must be dried quickly and not rubbed). Tencel is the least water-sensitive alternative.
Medium resistance to crushing
Very soft to the touch
Surface structure is shinier (more than natural silk)
Applications: knotted, tufted, handloom and kilim rugs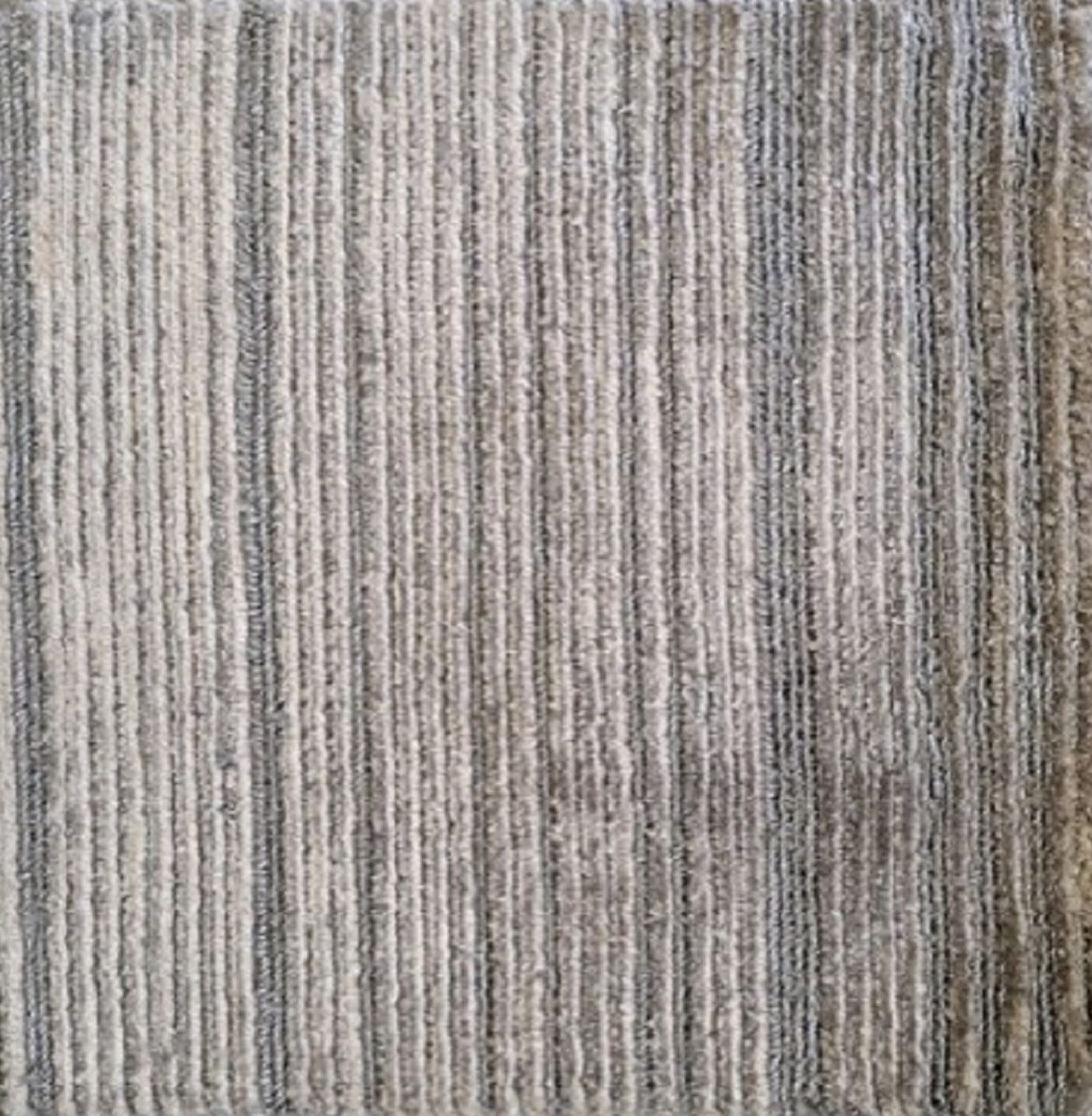 LUREX
Lurex is a registered trademark of Lurex, a British company. The fibre consists of a textile yarn, usually viscose, covered with polyester on which a metallic film of silver, gold or some other colour has been sprayed.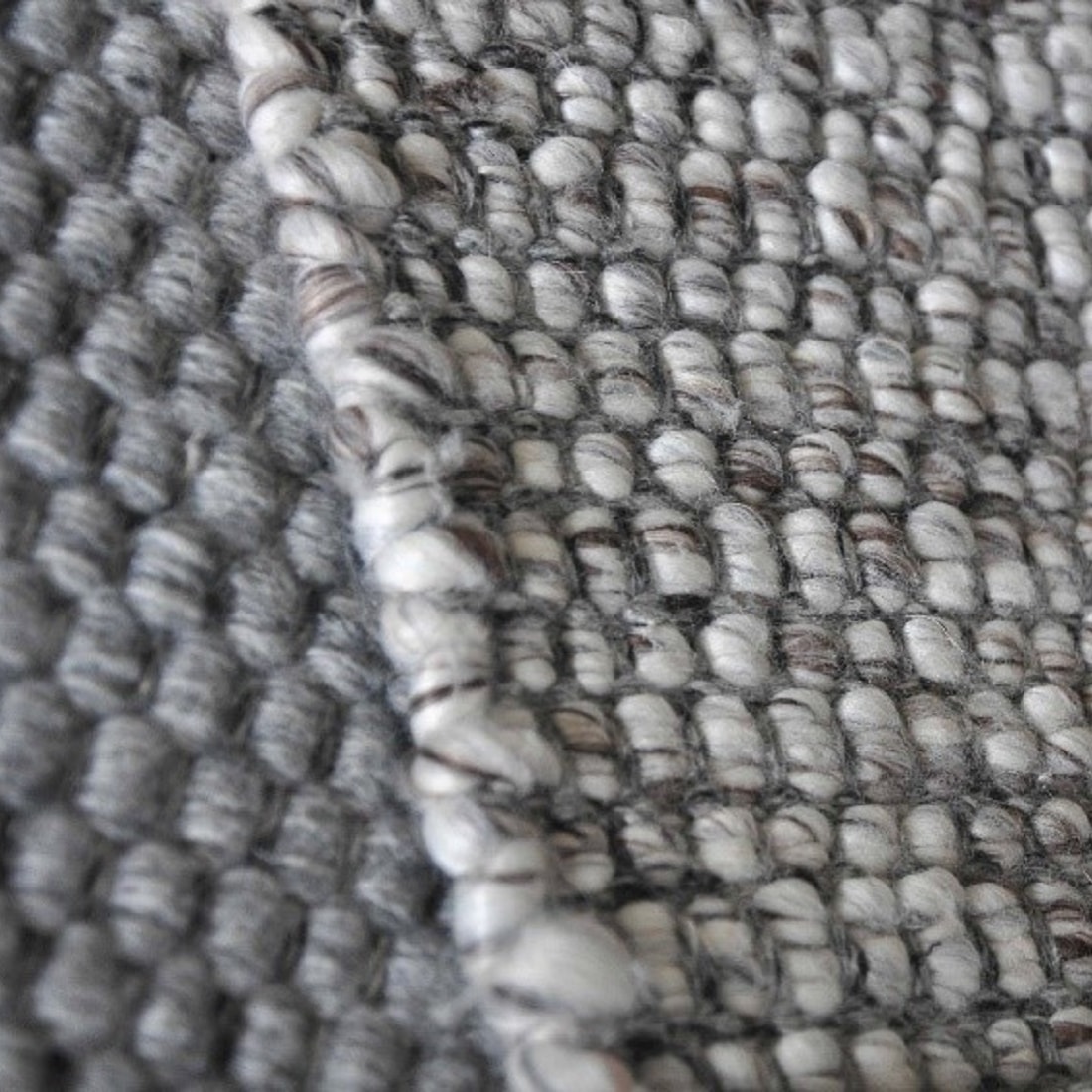 Synthetic fibre is a yarn that is produced from a synthetic material obtained through hydrocarbon synthesis. It is environmentally problematic considering its fossil origin and its non-biodegradability.
Very flexible, strong and durable, Nylon and polyester are also resistant to friction, insects (mites), fungi and rot. Acrylic has the advantage of being wool-like and resilient.
The PET yarn
In a bid to protect the ecosystem and the environment, industrial companies have made recycled fibre from used polyester bottles. The resin used to produce plastic (polyester) bottles is called PET. Consuming less fuel and producing significantly less CO², the processing of Pet yarn (also RePet or rPet yarn) does not require the use of natural resources like oil. It is hard-wearing and suitable for rugs and other textiles. This recycling method is being extensively developed in India. It does not look like wool, but its synthetic aspect is not so striking. One of its distinctive features is that rugs made from Pet yarn can be put outside and exposed to the weather. They are therefore suitable for bathrooms, kitchens, pool sides, etc.
10 plastic bottles yield 500 grams of recycled fibre.
1 million bottles will save 250 barrels of oil and 180 tons of CO².
Properties:
Different heights of rug piles available
Good resistance to moisture: suitable for outdoor use
Good resistance to crushing
Soft to the touch
Surface structure similar to acrylic or wool-like
Applications: woven or knotted rugs for outdoor use.